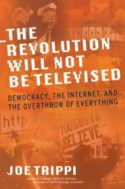 Joe Trippi es el asesor de Howard Den en las pasadas primarias demócrtas en los US. Fue quien se atrevió a usar Internet como una herramienta para las campañas políticas y para acercar personas comnunes y corrientes .
Aquí una reseña del libro.
----------------
When Joe Trippi signed on to manage Howard Dean's 2004 presidential campaign, the long-shot candidate had 432 known supporters and $100,000 in the bank. Within a year, Trippi and his energetic but inexperienced team had transformed the most obscure horse in the field into a front-runner, creating a groundswell of 640,000 people and raising more money than any Democrat in history -- more than fifty million dollars -- mostly through donations of one hundred dollars or less.
This is the story of how Trippi's revolutionary use of the Internet and an impassioned, contagious desire to overthrow politics as usual grew into a national grassroots movement and changed the face of politics forever. But it's also more than that.
It's about how to engage Americans in real dialogue, how business leaders, government leaders, and anyone else can make use of the most revolutionary idea to come along since man first learned to light a fire. No ... not the Internet. Or computers. Or telecommunications.
Democracy.
For those who thought the Dean campaign ended with a screaming speech in an Iowa ballroom, this book is a wake-up call. Joe Trippi explains how -- right now -- Internet democracy is trans forming every aspect of American life by evenly distributing power. He reveals innovations that are on the horizon, which companies are poised to become first-movers in this new era, and which are in danger of being left behind.
From his behind-the-scenes look at Dean's shocking rise and fall to his "seven inviolable, irrefutable, ingenious things your business or institution or candidate can do in the age of the Internet that might keep you from getting your ass kicked but then again might not," Joe Trippi offers an inspiring glimpse of the world we are becoming.
And he shows how power, in the hands of all of us, changes everything.